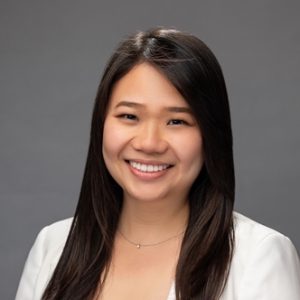 Dr. Elsa Lin joined New Life Dental Arts in July 2023, after graduating from the University of Washington School Of Dentistry. Dr. Amy searched for 2.5 years to find another dentist who brings the same standard of excellence in dentistry and patient care, and Dr. Elsa is the perfect fit! Patients immediately notice her caring, calm demeanor and our team loves her outgoing, fun personality!
Dr. Elsa received numerous awards and scholarships in dental school, including the Dr. Phillip D. and Shelly D. Anderson Endowed Scholarship, Dr. Hans and Clara Zimmerman Foundation Health Scholarship, Hawaii Dental Service Community Scholarship, Dr. Tony Michael Ponti Memorial Scholarship and the Northwest Dentists Insurance Company Endowed Scholarship. She served in the Union Gospel Mission dental clinics, Husky Health Bridge, and Husky Smiles, a non-profit program providing free dental exams for children, as well as numerous dental clinics around Washington State providing dental care to underserved communities.  She is an active member of the American Dental Association, the Washington State Dental Association and the Snohomish County Dental Society.
She grew up on Oahu, Hawaii, and worked as a dental assistant for several years, which helped her decide dentistry was the career for her. She truly loves building relationships with her patients as well as the artistic, creative side of dentistry. Dr. Elsa is a life-long learner and enjoys learning new techniques and skills in both her work and her personal life. On her days off, she enjoys cooking, playing pickleball, snowboarding, and traveling with her husband, Holland.