As a child, we know that nothing can be as frightening as a visit to a doctor or dental office. We promise to provide your kids with the best treatment possible, and to make their experience fun and enjoyable. We believe every child should walk away from their dental visit smiling and happy they came. For this reason, we have a dedicated dental room just for kids, so they feel special and more comfortable. We also have "Kid's Days" throughout the year where we decorate our office in a theme, give out dress-up and raffle prizes, and specifically cater just to kids for the day.
From age one through eighteen, we are committed to providing your child with a great dental visit. We will take special care to make sure your concerns as a parent are addressed. We also strive to teach every child excellent oral hygiene techniques, and believe that teaching children young leads to great habits in the future. Our promise is to treat your child as one of our own!
COMPLIMENTARY CONCUSSION MOUTHGUARDS: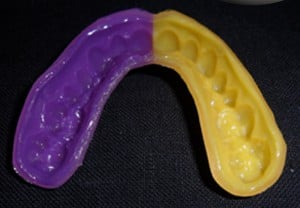 We know that as a parent of a child playing any sport these days, concussions are always a 
concern. As a service to our community, we are proud to offer FREE custom fitted, concussion mouth-guards for all local athletes in grades 8-12, and a minimal fee for younger children!
Concussions are one of the leading sports related injuries, and have received much media attention lately due to an increase in research and awareness within the NFL. Custom fitted concussion mouth guards provide greater protection for concussions, as well as trauma to the mouth, even if your child is wearing a helmet.
Our guards are easy to make, will fit over braces, and can be made for a child of any age. They stay in place during contact and are easy to breath and talk with. We can also customize them for your child's team colors! Don't wait to protect your child, call us today!